Latest 2006
Archive
REVOLUTIONARIES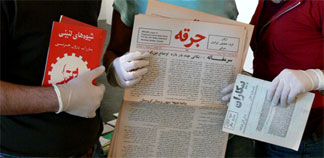 Blasts from the past
Photo essay: Unearthing half a century of underground revolutionary material
Jahanshah Javid
HERITAGE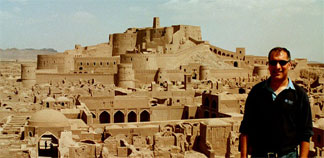 To Bam & back
Photo essay: Bam before & after the December 2003 earthquake, plus Mahan
Asghar Riahi

NAME
Searching for Suri
A more comprehensive explanation of the meaning of "Suri" in the Persian language
Kaveh T.
I found the comments, and also disagreements on the meaning of Suri in the Persian language interesting, and thought that this might shed some light on this topic. Since I realize that this discussion initially arose, apparently, by Katie Holmes and Tom Cruise's remarks about the meaning of the name for their newly born daughter Suri, I have written this for them as well. For the purpose of, as the saying goes, getting to the point and not making this explanation lengthy and boring, I shall refrain from explaining the real or most likely, plausible historic roots and also ancient affiliations to this word (as specifically related to its meaning and usage for celebration, and also to the color red).
HERITAGE
Goddess of the sea
Persians and pearls
Ramona Shashaani
Since time immemorial, people have been enchanted by pearls and shells of the mollusks which produce them. As the oldest known organic gem in human history, the story of the pearl is replete with rich symbolism, mythical and alchemical significance as well as love. For thousands of years, pearls have been a cherished symbol of love, purity, beauty, nobility, wisdom, and wealth. Pearls and Persians have enjoyed a timeless tied history together. Indeed, archeological discoveries of ancient sculptures and coins suggest that the Persian Gulf contained the world's oldest, largest and rarest pearl beds ever known. No place else did pearl oysters grow more pearls with such high quality and radiance. Nowhere else was it possible for pearl divers to dive more places than in the relatively warm shallow waters of the Persian Gulf, sprinkled with its many fresh water springs. In fact, this unique mixture of sweet and saltwater surrounding what is now Bahrain, is one of the secrets behind the special luster and brilliance of the Gulf pearls. With the coming together of the opposites literally, the most beautiful natural glowing pearl is born.

TOTALITARIANISM
Darshaaee az "nassle sookhteh"
Former Mojahed on the "burnt generation" and ideological dogma
Ali Salari
REPLY
Rooznaameye Shargh va Bahaiaan
Reformist newspaper columnist shows common ignorance on Bahai histtory
Tooraj Amini
Or Surrey, Scientology's headquarters?
Manouchehr Saadat Noury, PhD
On April 19 actress Katie Holmes, who is engaged to movie actor Tom Cruise, gave birth to the couple's first girl who was named Suri. Suri as a flower in Persian Culture is actually one of the members of Rose family and most Iranians call it as Gol-e-Mohammadi. Its scientific botanical name is Rosa damascena Mill (RDM). On the basis of various documents, the flower was firstly originated in Iran and it was possibly called simply as Rose. It is speculated that after Iran became a part of Muslim world, the Arab invaders became familiar with the rose and they introduced it to the gardens located in Damascus in Syria (in Persian: Suri-eh). Later, the Westerners called it as Rosa damascene (a part of scientific name) and Suri (as a local name).

COMMENTARY
I speak Irani
The case for a supra-national lingual identity
Guive Mirfendereski
In the Indo-European Family of Languages, the Indian branch evolved into Sanskrit, then into Middle Indian and from it derived the sub-branch that included Bengali and other tongues, while another sub-branch became Hindustani. The Iranian branch produced Avestan and then Old Persian and from Old Persian derived Middle Persian, the written form of which was called Pahlavi in Sasanid times. The Persian of today called by some as New Persian (and Modern Persian) is what most Iranians recognize among themselves as Farsi. Farsi (also referred to by a minority as Parsi) is the language of the Samanids, of Rudaki, of Ferdowsi and of Iran for over a thousand years. When an Iranian speaks of his language to another Iranian they refer to it as Farsi. The term Parsi is hardly used by the majority of the people unless they try to get across to the listener or reader a cultural, ethnic or political point of view, often laced with nostalgia, nationalism or ethnic purity. There is very little linguistic logic to its persistence.
IRANICA
History tour (de force)
Interview with Ehsan Yarshater
Hamid Karimi
Ehsan Yarshater is an iconic figure by all measures; he is perhaps the foremost expert in Iranian history, language and culture and with a steely resolve has set out to accomplish a grand task: to scholarly document the facts of history, language andcivilization of Iranian peoples through multi-disciplinary reference work and research in Encyclopedia Iranica. This is a stewardship project worthy of pride and generous support of all who are either Iranian by ethnicity, were influenced by its profound culture, or pursue a balanced, accurate account of its history and for that matter, the history of all civilizations... In his recent visit to the San Francisco Bay Area, in advance of the Iranica fund-raising gala on May 13th, I had the honor of interviewing professor Yarshater to learn more about his motivational drive in completing this grand endeavor. Expectedly I walked away content with his tirelessness, intellectual prowess and graceful fairness.

HISTORY
Mani's spirit and matter
An introduction to Manichaeism
Mary Boyce
Manichaeism is a gnostic religion that originated in Persian-Babylonia in the 3d century AD. Its founder was a Persian of noble descent called Mani (or Manes), c.216-c.276. Manichaeism was long treated as a Christian heresy, but it is more clearly understood as an independent religion, drawing on the diverse resources of Christianity, Zoroastrianism, and Buddhism. Mani was born on 14 April, A.C. 216, in northern Babylonia, which then formed part of the province of Asoristan, in the Parthian empire. His father, Patteg or Pattig, is said to have come from Hamadan. His mother, Maryam, was of the family of the Kamsaragan, who claimed kingship with the Parthian royal house, the Arsacids. Mani's own name, a fairly common one, is Aramaic and not Iranian.
On the death of Mary Boyce, one of the greatest scholars on Iran
Touradj Parsi
Lessons from the recent rallies of "illegal immigrants" across America
Xerxes Darius
This very powerful tool of unity, organized assembly, and peaceful demonstration is nothing new. It has been effectively used by various groups in the American society and this recent event proved to all of us that it can be as effective when used by the illegal immigrants even after 911!! Let's see if we can explore some parallels between above and Iran and Iranians... But, where to go and why should Mullahs leave especially when the Iranians of Los Angles, New York, Chicago, London, and other cities around the world are marginalized and have precluded themselves from the equation of fate. To better describe the equation of fate, I have simplified it so that even those single-digits among us can follow:
CULTURE
Ideas for our future
Keeping Persian culture alive
Hossein Hosseini
After almost 30 years of living in America, I have learned there are many things we could do and should do to keep our Persian cultural heritage alive here in this great land of "melting pots." After all, the Irish have their St. Patrick's Day, the Germans have their Oktoberfest, and who can forget the great Mexican celebration of Cinco de Mayo or Chinese New Year? The key is how to best retain our Persian culture, while still adapting to American way of life. So, you may ask, what is it in our culture that we need to maintain? I would say everything that has to do with our identity as Iranians; from our food, art, and language, to the great history and tradition that we grew up with. Having raised two kids in America (Ages 14 and 12), here are few practical suggestions I could offer you as you deal with young ones being raised here:
POINT
Mohammad va peyrovaane ou
A Marxist-Leninist look at Prophet Mohammad and his followers
Hojjat Barzegar
Part 5: Returning to Iran: 1986-87
Sima Nahan
Behesht-e Zahra (Paradise of Zahra) is the name of a huge cemetery outside of Tehran, on the highway to Qom. Conceived and partially constructed before the revolution, it is being rapidly filled, while not yet quite finished, as if testifying to the fulfillment of a grotesque prophecy. Entering the grounds very early on a summer morning, having left home at dawn in order to avoid the mad traffic of downtown Tehran and the scorching sun of midday in the desert, we are relieved by a gentle breeze drifting our way from a generous stream of fresh water running through the main boulevard.
The Rostams have failed and are no longer desired. It is time for Iranian men to hand over the ruling of the country to women experts and follow their leadership by cooperating in fulfilling common aspirations
Vida Kashizadeh
The Iranian woman has been suppressed for 2 millenniums, that is since the Aryans invaded the land, but with times changing, her genetic disposition and heritage connecting her to the amazons has been forcing itself to the surface. Parallel to this awakening of the ancient instincts and the genetically re-emerging strength of women in their endurance and their perseverance, in addition to the skills they have gained in order to survive as an entity, the Iranian man's ancient anxiety has also been stimulated. In today's Iran men are anxious and women are fed up. The women have nothing to loose except their veils. There is no lack of human resources to bring change; the only thing needed is a decentralised coordination.
Attacks on Bahais and Amir Abbas Hoveyda
Kavian Sadeghzadeh Milani
POINT
Fighting lies with lies
On denying the holocaust
Sima Nahan
What do decent folks do to counter historical falsehoods? They try to fight lies with truth. They do research. They write books. They try to spread the word. They teach. For decades now historians, journalists, artists, activists, and certainly academics have been doing exactly this. They have upheld the "If Only" school of displaying faith in humanity: If only Americans and the rest of the world knew the truth of what happened to Palestine and the Palestinian people... If only they knew the devastating impact of the politics of Israel on the people of the region... If only they knew the cost to democratic movements in the Middle East of denying historical and political facts ... But where has this good-faith approach gotten us? A concerted effort to intimidate and suppress anyone challenging uncritical support for the state of Israel on college campuses, for one.
JEWS
Revealing errors
Iran, Jews and the Holocaust: An answer to Mr. Black
Abbas Milani
In early January of this year, a prominent American journalist published a strangely inaccurate attack on Iran, making the country complicit in the crimes of the Holocaust. I prepared the response below and sent it to the San Francisco Chronicle, where the original article had appeared. But the editors of the paper told me that they do not publish polemical responses. I prepared another essay, dealing directly with each of the accusations, and the essay was published in the Insight section of the Chronicle on Sunday, February 9, 2006. (p. E 5). But as the accusations in Mr. Black's article are serious, I think publishing the direct response to his attacks is also necessary.

WORDS
Loving the "L" words
Could the Persian "loos" (spoiled) and English "luxuriant" (lux) be far behind?
Guive Mirfendereski
By sheer happenstance, I think I have stumbled on a word in Farhang Moin that might well provide some measure of proof that luvu (lubu or lufu) existed in the vocabulary of ancient Persians. The word at issue is the Farsi word labeh, which now means self-admiration (khod-setaee); its verb form is labidan. Its verb form has the usual phonetic variations in which the sound "b" substitutes for the sounds "p" (as in lapidan) and "f" (as in lafidan). The variants of the noun labeh itself on the other hand are laveh,lafeh and lapeh. This may also relate to the Persian noun lavand, which presently means a "lewd" woman, a "prostitute." I think lavand may have begun as a word to suggest one proffering luvu or lava, love (lav/a/vand).

JOURNALIST
Parchamdaar
Mohammad Mehrdad: A life dedicated to freedom
Ali Mohammad Lashgari

GRIEVANCES
Haya
It is ultimately all about the failure of the rule of law and process to address grievances
Guive Mirfendereski
The Danish Cartoon Affair has eclipsed the Iranian nuclear case, which in itself is another example of the pornographic times in which we live. Here is a country that is signatory to the nuclear Nonproliferation Treaty but who is suspected of making an atomic bomb in contravention of its obligations under the treaty and at a huge cost to its national treasury, when it probably could obtain a device or bomb for a lot cheaper and sooner on the international market. While President Bush has called for a greater reliance on nuclear power to meet America's insatiable appetite for energy, the Bush Administration wishes to deny Iran nuclear power technology altogether.
EXAMINE
Let's rewrite Iranian history
The past 50 years
Persian Majeed
Examine & investigate judicially each & every U.S. personnel, companies, organizations who ousted the legitimate government of Iran under Dr. Mohammad Mosaddegh, that instigated a coup d'etat & overthrew him, in a U.S. court of law by the most lenient panel of U.S. Judges. Then convict those criminalized ones. Examine & investigate judicially each & every U.S. personnel, companies, organizations who caused much anguish, mental stress, physical tensions amongst civilians throughout the past 25+ years in an all-out effort against the Islamic Republic of Iran.

MUSIC
Listen to the reed how it tells a tale
Exploring tradition and modernity through Iranian musical literature
Aaron P. Baca
Over a century ago Nasir ed din Shah traveled to Europe and brought back a military band to encourage the Western arts (Caron, p. 15). This past November 12th, modern Iranian sensation Googoosh played a sold-out concert at the Bill Graham Civic Auditorium in San Francisco, California. Steeped in centuries of tradition but readily susceptible to the inclinations of modernity, Iranian music has become a crossroad for the past and present. The form instilled in the music so long ago is still greatly revered, but is approached with the tenacity of the individual. Persian music does not abandon its roots but places increased emphasis on the freedom of the performer.

WORDS
Nonsequiturs
Of Quince, Kid and Lout
Guive Mirfendereski
When I think of Sadeq Hedayat, I also think of Sadeq Choubak, another Iranian writer. He wrote, "The Baboon whose Buffoon had died." This title in Farsi is "Anatari keh loutiash mordeh boud" and the baboon (antar) and his handler too were a part of the Iranian street scene as I remember from my childhood. And thus I come to weave into the discussion of quince (beh) and kid (koudak) some thoughts about the word louti and its connection with the English word "lout." "I wonder," asked me Omidfarda, "what [is] your take on 'Lout,' an awkward and stupid person or an oaf? We use it daily in Farsi!"

STATE
Persia & democracy
Ancient Iran developed the concepts of "state", "government", "political territory", and "boundary", and the Persians contributed substantially to the evolution of the concept of "democracy" in the West
Pirouz Mojtahed-Zadeh
It is universally accepted that the need for defining precise lines of separation and points of contacts between states is the byproduct of the emergence of nation-states and 'world economy' in the nineteenth century Europe. Nevertheless, it is hard to overlook the fact that these modern notions are rooted in periods prior to the emergence in Europe of nation-states. There are indications that ancient civilizations were familiar with the notion of 'state' in connection with the concepts of territory and boundary. Ancient texts reveal that this basic principle existed in ancient Persian literature in respect of matters of state, territory, and boundary. Similarly, the likelihood exists that these Persian notions could have influenced Roman civilization.
CHARACTER
Religiosity of revolutionary guards
Part 2 of reply to Guive Mirfendereski's "The Ahmadinejad in us"
Fatema Soudavar Farmanfarmaian
Resentment of the Jews or, earlier, of the Christian Crusaders, for the occupation of Palestine did not feature prominently in the history of Iran. Gaza had not figured among our concerns since its occupation by the Achaemenids. Nor were Iranians much involved with the Crusades; not even the Saljuq sultans of Iran offer much support to their cousins of Rum when the latter were fighting the Christian Crusaders in the Levant. In the Shiite tradition of my own memory there was less reference (if at all) to Palestine or to Jerusalem than to Karbela, Najaf, Mashad and Qom. Most Iranians only became aware of Palestine after the Second World War, when they went there, not to pray at al-Aqsa, but to benefit from the medical proficiency of Jewish doctors who had immigrated from European lands.
POLITICS
Bakhtiar beh maa goft!
On the premiership of Shapour Bakhtiar 37 days before the 1979 revolution
S.H. Jalili

HISTORY
Ahasuerus
Who is he?
Guive Mirfendereski
In his opinion piece "An honest look in the Persian mirror", Steve noted, "the story of Esther in Persia did not take place under Cyrus, but probably under Artaxerxes (according to the Septuagint), or perhaps under Xerxes." I stand corrected. Not! Nobody knows for sure which Persian king is Ahasuerus supposed to represent. Britannica identifies him as Xerxes I (ruled: 486-465 BC). In the same breath, however, Britannica tells us that "The book purports to explain how the feast of Purim came to be celebrated by the Jews, but its fanciful explanation belongs to the realm of historical legend rather than fact." In 1981EBMicroVIII:309, the story of Purim is said to be "probably fictitious." Dehkhoda too identified Ahasuerus as Khashayarshah (Xerxes).
>>> History archive