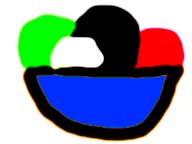 The Refrigerator
My mission on a hot summer's day in Tehran
By Maryam Kazemieh
April 23, 2001
The Iranian
It was my second trip back to Iran in eighteen years. My mission was to buy a refrigerator for my mother. Finally, the old refrigerator that had served us all for 35 years, gave up the ghost.
We left my mother's Shemiran apartment late in the afternoon. To avoid Tehran's crippling traffic jams, we would take the special bus to downtown. Do not travel to Iran in the summer time; if you do, do not use the public transportation. As we walked to the bus stop, the long black coat and the scarf, which I had tightly knotted under my chin, were baking my skin and boiling my internal organs.
By the time we left the crowded bus on Naderi, my mother had to take me to a cool dark teahouse and revive me with a cold ice cream and shaved ice.
The plan was clear. We would walk along Naderi Avenue, searching for the perfect refrigerator.
Naderi Avenue was a treasure island of electronic equipment. Rows of shops offering anything from stoves to televisions and video players. I could not figure out why it was legal to sell video players, while watching videos was punishable by the police.
The police had recently broken into my cousin's house and confiscated their electronic stereo equipment and video player, and the court found them guilty of being disrespectful to the Muslim faith and religion for watching foreign films and listening to music.
At some point all these confiscated equipment find their way back to Naderi Avenue for resale. The police are happy and the shopkeepers are happier to see punished consumers coming back to purchase electronic equipment.
Our search led us to a beautiful white Kenwood that made me home sick for the United States. It was clean and the organizer shelves were the work of the Western genius. The white shone like a star against the backdrop of heat, pollution, traffic and chaos, planting big smiles on our otherwise tired and pale faces.
Mr. Abidi, the shopkeeper was pleased at our pleasure and took it upon himself to complement the manufacturer on inventing this magnificent, beautiful icebox. His ghabghab stiffened with pride as if he was somehow responsible for its creation as he ordered Hassani, the young assistant, to bring us tea and sweets.
Mr. Abidi recited all the fine features of this particular model, including the automatic icemaker, which he advised against over-use. Tehran was going through a severe drought due to lack of rain and population explosion.
Mother, who was set on not filling another ice tray ever again in her life, started the haggling as she sipped tea and shoved the little sweets in her mouth between sentences.
Mr. Abidi's final price of $1,200 for this fine imported merchandise quickly dropped to $1,000 and an agreement was reached. There was no handshake; men and women cannot shake hands in public.
On my mother's command, I reached in to my wallet and laid out ten perfect $100 bills on Mr. Abidi's desk.
"Nemitooneem keh... we can't take dollars, tomans only," Said Mr. Abidi with a forced smile.
"But my daughter has brought this all the way from America. Surely you can take dollars, every one wants dollars," my mother said, reaching for the money, picking up a couple of the bills and waving them in the air for Mr. Abidi to see.
Backing away, like a matador from the charging bull, Mr. Abidi stretched his open palms toward the high corrugated cement ceiling, swinging his worry beads that appeared magically hanging from his thumb.
"Beh val-laaheh khanoom, we like dollars but we cannot spend them. Dollars don't buy us naan sangak. Last year the dollar was good, today, only tomans."
Walking toward the entrance of the store he then pointed his index finger into the motionless traffic layered in a curtain of brown smoke and dust and continued,"If you walk across the street you'll see the money changers. Just go in and change this in to tomans and come back. We'll wait. I'll have Hassani get some ice cream ready. Mobaarak baasheh."
He then grabbed the money off his desk, offering it back to me, circling his worry beads skillfully, with his thumb and index fingers, and praying under his breath, he then walked back to his desk.
"I guess dollars aren't good enough for these people anymore; anywhere else, they'll kill for it," I said as we crossed the street in the heavy traffic.
It was late in the afternoon, with no sign of a breeze to lift the stifled air. By the time we entered the little kiosk of a young money exchanger, I was soaked, sweat dripping from every corner and crevasse in my skin. I reached into my wallet and once again took out my wealth of ten perfect $100 bills.
The young man turned on a bright desk lamp and like a surgeon inspecting the x-rays of his unfortunate patient before a surgery, he scrutinized every single bill. He took four out, handing them back to me saying, "No good."
I looked at the rejected bills. There was nothing wrong with them. He proceeded to explain how one had a small hole and the other three were not of the newly-changed design. The next three money changers gave the same verdict. The fourth had no money to exchange, period.
Hopelessly, we walked into the fifth exchange shop and to our utter surprise, the deal was done. The shopkeeper, a middle-aged man with a black-and-white beard, accepted all the $100 bills. In minutes the entire surface of the counter in the little shop was covered with stacks of tomans. We stuffed our purses with about half the money and then pondered how to carry the rest back to Mr. Abidi's appliance store. The bearded man offered three large black garbage bags.
Imagine two women in their black Islamic garb, steaming with sweat, cutting into traffic carrying large garbage bags and purses filled with money.
I never imagined ten $100 bills would impose such a heavy burden. A swipe of a credit card would have even earned me a ration for a free flight to some beautiful pristine beach away from this weary rendezvous with Mr. Abidi and his worry beads.
Mr. Abidi was chatting and laughing with a potential buyer when we walked in. The anticipation of swallowing the cold ice cream painted a smile on my face as Mr. Abidi greeted us.
"Khosh-aamadid," Mr. Abidi declared as he guided us to his desk with open arms. I wasn't sure what my next move should be. Should I hold on to my demure happy smile? Should I be happy at the sight of the white refrigerator solemnly waiting to go to its new home where the cool air from the Alburz mountain awaited us?
I put one garbage bag on the floor, wiped my sweaty palm against my black garb and put the other bag underneath the desk. For a moment I felt like a veiled robber in an Iranian "Bonnie & Clyde" flick. "Where's the ice cream?" I demanded.