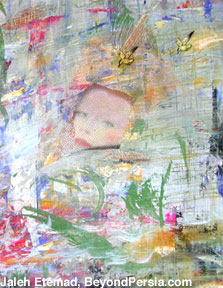 JALEH ETEMAD
I find that the challenge in painting comes when the painter sees something beyond the surface of the subject matter. The successful execution of techniques in a painting is only a matter of practice. The real challenge is to bring out what is beyond the surface, whether it is the feeling or the character. Once it is discovered and unearthed from the depth of the surface, then the painting is complete. In my quest for artistic versatility and maturity, I have tried on a most basic level, to plant the spark of life within the created forms. It is my hope that this spark will provoke inquiry into the realm of emotion and intellect.
JalehEtemad.com

>>> NEXT
Maryam (Mina) Ghaziani
*
*
*
*
*
*
*
*
*
*
*
*
ARTISTS
* Maryam (Mina) Ghaziani
* Speheram Khamjani
* Shiva Pakdel
* Amir Salamat
* Shahla Motamedi
* Simin Meykadeh
* Jaleh Etemad
Still decidedly Persian
Photo essay: San Francisco exhibit "Beyond Persia Artists"
Lalé Welsh Shahparaki
December 3, 2006
iranian.com